McGettigan Group to release Dubai luxury hotel rooms for sale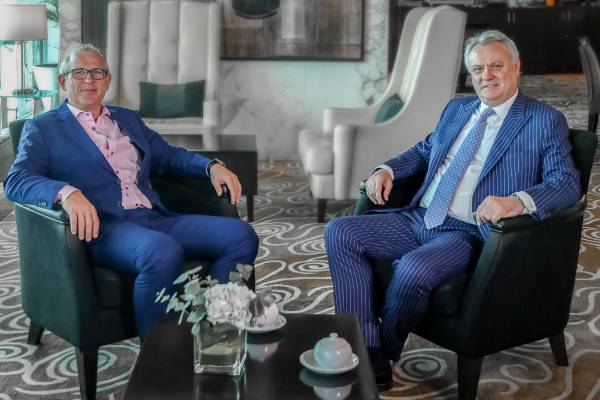 Dennis McGettigan and Phil Sheridan
Investors have a unique opportunity to purchase hotel rooms at the five-star Bonnington Hotel Jumeirah Lakes Tower in Dubai.
Hotel operator the McGettigan Group has teamed up with real estate agency Berkshire Hathaway Home Services to offer an incredible investment opening in the 479-key property.
Located in the Jumeirah Lakes Towers mixed-use development, the Bonnington Hotel features 208 hotel rooms, 271 serviced apartments, high-end business facilities, fine-dining restaurants, and leisure amenities, as well as the popular McGettigan's Irish Pub.
Investors are being offered a guaranteed return on investment of 50 per cent, with 4 per cent paid per year, plus an additional 10 per cent premium upon completion of their 10-year ownership term. Furthermore, investors can opt to extend to a 15-year term to receive an additional 10 per cent premium and an overall ROI of 80 per cent. Under the purchase agreement, the Bonnington Hotel Group will continue to manage and operate the hotel, including those units available for sale. They will then buy the units back at the original price, plus premium, at the end of the term.
The sales launch provides an opportunity to capitalise on an expected rebound in international travel in 2021. Dubai is the seventh most visited city in the world, welcoming 16.3 million international arrivals since 2019. To further boost confidence, customers will hold the title deed for their units, issued by Dubai Land Department.
Dennis McGettigan, Chief Executive of McGettigan Group, said: "We are thrilled to be launching this exclusive partnership with Berkshire Hathaway HomeServices Gulf Properties. It presents an exceptional opportunity to invest not just in the luxury Bonnington Hotel, but also in the wider acceleration of Dubai's tourism growth as travel restrictions ease."
"As expert hospitality operators for more than half a century, we have absolute confidence in our guarantee of attractive return on investment over the ownership term. We are also delighted to confirm that owners will receive the added security of title deed ownership of their units in association with Dubai Land Department."
Phil Sheridan, Chief Executive Officer at Berkshire Hathaway HomeServices Gulf Properties, said: "Investors can be assured of a personalised, refined ownership experience that mirrors the guest experience of the Bonnington itself."
"It is rare to be presented with such a solid investment opportunity that offers guaranteed returns in addition to complimentary premium lifestyle benefits including shopping vouchers, golf hospitality packages, tickets to world-class sports events, and much more. We are expecting rapid uptake of available units.
The Bonnington Hotel offers close proximity to shopping facilities and malls, restaurant, bars, the Dubai Metro and premium golf courses. The hotel opened in 2010 and is a short drive from the Expo 2020 site and Dubai's international airports. It boasts the first McGettigan's Pub to be opened outside Ireland.
Source: https://bit.ly/3AASz9a